Thursday, June 24, 2004

The National Liberation Army (ELN) of Colombia released their two hostages sometime in December 2003. A German woman and a Spanish man.

I never saved the story, AP articles are usually pretty boring, especially articles about hostage-releases.

Looks to me like they were treated well -- I mean, they look healthy, and the farewell seems like fun. And the German gal, she looks like a beautiful woman who can kick-ass!!

Something like ten Colombians are kidnapped a day in a population of 30 million. It's a kind of built-in tax system for the privledeged -- the phycological-tax of kidnapping.

So much for Colombia today anyway!!

Read more!
Wednesday, June 23, 2004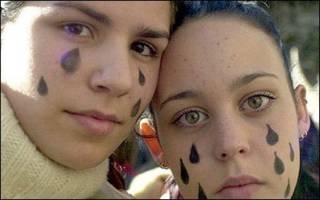 I stumbled across this photo of two protestors in Spain ...
powerful and beautiful ...
When the Prestige oil tanker sank on November 13th, 2002, millions of people were shocked by the gravity of the ecological and economic consequences. Fishermen were trying to hold back the waves of oil with their hands, huge black slicks along one of Europe's most beautiful coastlines, and the thousands of volunteers who struggled with the clean up.
Massive public protests were held throughout Spain,
their motto -- 'Nunca Mas' or 'Never More'.

Read more!
Subscribe to Posts [Atom]