Wednesday, June 23, 2004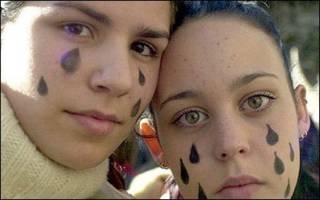 I stumbled across this photo of two protestors in Spain ...
powerful and beautiful ...
When the Prestige oil tanker sank on November 13th, 2002, millions of people were shocked by the gravity of the ecological and economic consequences. Fishermen were trying to hold back the waves of oil with their hands, huge black slicks along one of Europe's most beautiful coastlines, and the thousands of volunteers who struggled with the clean up.
Massive public protests were held throughout Spain,
their motto -- 'Nunca Mas' or 'Never More'.

Subscribe to Posts [Atom]